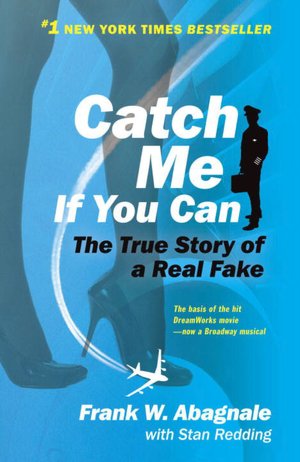 If you enjoyed the pace and non-stop action of a book like Unbroken, you'll likely enjoy Catch Me If You Can: The True Story of a Real Fake. Sound confusing? This book is the true story of Frank Abagnale, who stumbled into a life of fraud at the young age of 15 years. When his parents unexpectedly divorced, Abagnale's life was put into a tailspin, and his hunger for money pushed him to find creative ways to make some. Sadly, his own father was the first individual he swindled.
Soon after that, Abagnale discovered that if he played it right, he could cash faulty checks and then move on before the banks or hotels caught onto him. He also looked much older than his age, and in the process of creating an identity that would match the checks he was cashing, Frank faked many identities. His most frequent alter ego was a Pan Am pilot, which allowed him countless free flights; but from age 16 to 21, he also posed as a medical doctor, sociology professor, airline recruiter, and law attorney (he even passed the bar exam in the process!). What makes his story so amazing is that he actually did such a good job pretending in some of his impersonations that he was highly respected by those interacting with him.
Although Abagnale's life of fakery also included a number of sexual relationships, the book doesn't not glamorize his escapades or share explicit detail. The language is also clean. (While it certainly doesn't excuse his crimes, I also found it intriguing that Abagnale took great effort not to personally rob any individual, but rather to steal nearly all his funds from insurance-backed institutions.)
Tired of living on the run, Abagnale eventually settled down for retirement in France (at the young age of 20!), but was soon after caught and imprisoned in France, where prison life was so rough that he barely survived. And eventually, he was sentenced to prison in America, as well.
Abagnale's story, like that of Louis Zamperini's in Unbroken, also ends with redemption. But unlike Unbroken, his redemption was not as public, nor as overtly Christian, and nor was his early life so heroic.
In a rather strange twist of irony, the FBI hired Abagnale just four years into his twelve year prison sentence, at first without remuneration. Perhaps even more amazingly, he's been with them ever since, has been married for over thirty five years, and has three sons who have all had great life success. Today, he is a highly respected expert in the field of forgery and fraud.
While the book and the movie (yet to be seen by me) end at different points following Abagnale's criminal career, I was fascinated to find and watch this speech by Abagnale, in which he recounts his early life, but also answers a number of questions regarding his life since. (Near the end, he also gives some helpful info on avoiding identity theft.)
I have not yet seen the film version of Abagnale's life, but hope to compare the story later this year. Somewhat interestingly, when the movie was made, federal regulations on Abagnale's former crimes meant that the film writers and actors were not able to consult Abagnale on his life, mannerisms, or role studies. But Abagnale has said multiple times that he felt the film did a good job in its portrayals.
Table of Contents